ACF Fiorentina Women's Team was founded in 2015, with the name of Fiorentina Women's, taking over from the Firenze Calcio Female club, which had existed since 1979.
Fiorentina was the first Italian professional football club to create its own women's team, an innovative and important decision for the development of women's football in Italy, followed by other clubs, starting with Juventus.
Having believed and invested in women's football was a credit to former owners Andrea and Diego Della Valle and the management of the President Sandro Mencucci who was able to structure and enhance the youth sector by favoring the teaching of basic movement, fundamental for the growth of the team.
From the first year, starting in the 2015-16 season, Fiorentina Women's were led by Coach Sauro Fattori, a former Viola player. They made a name for themselves with the contribution of goalscorer Patrizia Panico and other talented players, finishing the season in third place and missing out on qualification for the Champions League by just one point.
During the following season, 2016-17, Antonio Cincotta supported Fattori in the technical sector. Along with many renewals – Adami, Guagni, Bartoli, Caccamo, Orlandi, Tortelli – important players like Ilaria Mauro, Tatiana Bonetti, Alice Parisi, Elena Linari arrived at the club. The results are sensational: winning the league after leading from the first day, with 63 points (21 wins and one defeat) and also lifted the Coppa Italia, beating Brescia.
In this second year of the team's inception, Fiorentina Women's – still led by Mencucci – was the best side in Italy, bringing the Scudetto and the Coppa Italia to Florence. The interest in the Viola women increased dramatically, and many girls asked their parents to take them to play football, following the example of the young Fiorentina champions.
In 2017-18, the team participated in the Champions League. With elimination at the hands of Wolfsburg, the Viola, who finished fourth in the league, were a little disappointed. Yet they still won the Coppa Italia that year, by beating Brescia in the final.
The 2018-19 season was particularly intense. Having won the Italian Super Cup on 13 October 2018 versus Juventus, Fiorentina's women lost to the bianconere in both the Coppa Italia final and also in the league. They would end up in second place, one point behind the champions, and once again qualified for the Champions League.
In 2018, the Italian Women's National Team managed to qualify for the FIFA Women's World Cup to be held during the following year in France. It was 20 years since they last participated in the tournament, therefore the "Azzurre" aroused the interest of the whole country. The passion of the supporters sustained Italy's women in their prestigious journey which came to an end in the quarter-finals. This was a splendid result, achieved with three Fiorentina players as key figures – Guagni, Mauro and Parisi – as well as many other former Fiorentina players representing the "Azzurre" on the pitch.
From 6 June 2019, the Commisso era also began for Fiorentina Women, still with Mr. Cincotta on the bench as Rocco also assumed the presidency of the women's team.
The 2019/20 Serie A season was suspended on 10 March 2020 due to the COVID-19 emergency, and subsequently declared over, despite having six matches left to play at the end of the campaign. Fiorentina finished second once again, handing Champions League qualification to La Viola.
On 13 July 2020, ACF Fiorentina announced that following Fiorentina Women's had been officially incorporated into the club's structure.
The new official name of the team was to be ACF Fiorentina Female as a new era had begun. Fiorentina's women's team was now perfectly integrated into the club.
Edited by: Massimo Cervelli, Mauro Moschini, David Bini, Commissione Storia Museo Fiorentina.
Historical research uniforms: David Bini
Uniforms designs: Riccardo De Conciliis
Season 2019/20
DIVISION: Serie A 
POSITION: Fiorentina finished 2nd
TEAM:
1 DURANTE Francesca,
2 CORDIA Janelle,
3 GUAGNI Alia,
4 ARNTH JENSEN Janni,
5 TORTELLI Alice,
6 BREITNER Stephanie,
7 ADAMI Greta,
8 PARISI Alice,
9 MAURO Ilaria,
10 BONETTI Tatiana,
11 VIGILUCCI Valery,
12 MASCARELLO Marta,
14 PEREZ JARAMILLO Catalina,
15 RIPAMONTI Chiara,
16 MONNECCHI Margherita,
17 DE VANNA Lisa,
18 MORREALE Marta,
20 CATENA Michela,
22 CORAZZI Azzurra,
23 FEDELE Noemi,
24 PHILTJENS Davina,
25 THOGERSEN Frederikke,
26 CLELLAND Lana,
29 LAZARO Paloma,
33 FUSINI Martina,
34 AGARD Laura,
87 OHRSTROM Stephanie.
Coach: CINCOTTA Antonio.

NOTE: Kit Sponsor: Le Coq Sportif.
Sponsor: CF&P e MEYER.
Fiorentina lost in the Supercoppa Italiana final to Juventus.
La Fiorentina were eliminated in the last 16 of the Champions League by Arsenal.
La Coppa Italia was cancelled without a winner due to COVID-19.
Season 2020/21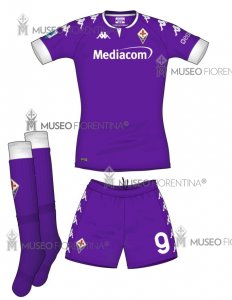 DIVISION: Serie A 
POSITION: Fiorentina finished 4nd
TEAM:
1 OHRSTROM Stephanie
2 CORDIA Janelle
4 ARNTH JENSEN Janni
5 TORTELLI Alice
6 BREITNER Stephanie
7 ADAMI Greta
8 NETO PIRES Teresa Claudia
9 SABATINO Daniela
10 BONETTI Tatiana **
11 VIGILUCCI Valery
12 MASCARELLO Marta
14 MIDDAG Tessel
15 RIPAMONTI Chiara **
16 QUINN Louise Catherine
17 MONNECCHI Margherita
18 PIEMONTE Martina
19 KIM Abigail ***
19 ZAZZERA Danila
20 CATENA Michela
21 FORCINELLA Camilla
22 BALDI Sara
23 FUSINI Martina *
25 THOGERSEN Frederikke Skjodt
26 CLELLAND Lana
30 ZANOLI Martina
33 LORIERI Sofia
34 MAZZONI Maria Paola
35 MANI Rebecca Klara
71 SCHROFFENEGGER Katja
Coach: CINCOTTA Antonio

* sold in December 2020
** sold in December 2020
*** termination in February 2021
 
NOTE: Kit Sponsor: Le Coq Sportif.
Sponsor: MEDIACOM.
Fiorentina lost  in the final of the Italian Super Cup versus Juventus
Fiorentina eliminated in the quarter-finals of the Italian Cup versus Inter.
Fiorentina eliminated in the round of 16 of the Champions League versus Manchester City.

Season 2021/22
DIVISION: Serie A 
POSITION: Fiorentina finished 7th
TEAM:
1 SCHROFFENEGGER Katja
2 MAZZONI Maria Paola
3 ZANOLI Martina
4 SUNDE Malin ***
5 TORTELLI Alice
6 BREITNER Stephanie
7 NETO Clàudia
8 LUNDIN Karin
9 SABATINO Daniela
10 CATENA Michela
11 VIGILUCCI Valery
12 MASCARELLO Marta
17 MONNECCHI Margherita
18 PIEMONTE Martina *
19 GIACINTI Valentina **
21 FORCINELLA Camilla *
22 BALDI Sara
23 HUCHET Sara
24 ZAZZERA Danila
26 PIRRIATORE Isabel
27 KRAVETS Darya
28 CECI Serena
29 BARTALINI Viola
33 VITALE Francesca
46 TASSELLI Sabrina
55 RUSSO Federica **
68 ARONSSON Ronja **
77 CAFFERATA Federica
83 FORTUNATI Giorgia
87 BOQUETE Veronica **
93 MARTINOVIC Melania *
Coach: PANICO Patrizia

* Sold in the winter transfer market session
** arrival in the winter transfer market session
*** arrived in the winter transfer market session and released in February
NOTE: Kit sponsor: Kappa.
Sponsor: MEDIACOM.
Fiorentina eliminated by Empoli in the quarter-finals of the Italian Cup.