Viola Cards – 3
by Giancarlo Del Balio
 We continue the publication of the cards dedicated to the team and to the players of Fiorentina who have accompanied their history. We will present a wide and varied panorama, trying to be as complete and precise as possible. We therefore ask not only for understanding, but also, from those interested, for direct help with information and material, by writing to: info@museofiorentina.it 
1932-33
It should have been the year of consolidation. Petrone's success (championship top scorer and team leader) led Fiorentina to buy three more Uruguayan strikers: Vicente Sarni, German Antonioli and Carlos Gringa. The Italian-Uruguayan team, conceived at a table, could not stand the impact of the field and, above all, of the dressing room.
In March, with the escape of Petrone who returned to Montevideo, the situation exploded, also requiring the change of the coach.
After the storm came quiet: in the last few games the Viola climbed up the rankings placing themselves in an honorable fifth place on a par with Roma.
Pedro PETRONE
In these figurines, unknown edition size 3cm x 3cm, in addition to Pedro Petrone, some of the Viola strengths are represented. The goalkeeper Bruno Ballanti, often called Ballante, four years in defense of the Viola goal.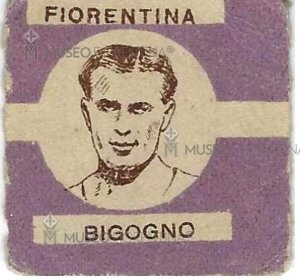 In the middle, Giuseppe Bigogno, five championships with Fiorentina, where he returned for another three seasons, after having played three championships with the genoan rossoblù, and the winger Gastone Prendato, also four seasons with the viola shirt.
One of the stars of Italian football of the time, the median Alfredo Pitto with the purple shirt in the stickers of the Automatic Scales of Milan and of the national team in those of the Zelante Chocolate (3x 5 cm).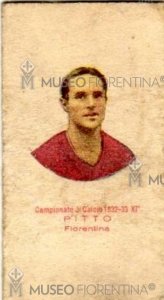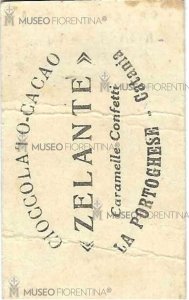 1933-34
The disappointment of 1932-33 led to the abandonment of the natives, with the purchase of young players with great growth potential, including Cinzio Scagliotti, who entered the history of Fiorentina as a player, but also as a coach and youth coach.
Chocolate Zaini, from Milan, was one of the companies that most used the figurine tool in the 1930s for propaganda purposes.
The youngsters had to be accompanied by highly experienced players such as the Hungarian striker János Nehadoma, in the Turin FIM pencil figurine (3.4×5.5 cm. In light cardboard).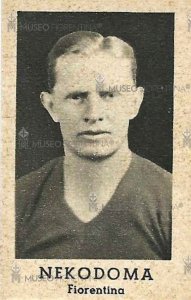 Fiorentina finished in sixth place giving a definitive backbone to the team, with players like these depicted on the stickers of SIDEA in Florence (size 4×4 cm).
Left-back Lorenzo Gazzari, seven championships with the purple jersey; the extraordinary midfielder Mario Pizziolo, world champion with Italy in 1934 and purple flag; Mario Perazzolo strong midfielder who played three championships with the lily on the shirt.
Cinzio Scagliotti, a player who is worth a lot and a card that is worth… nothing.