"VIOLA CREATIVITY"
Andrea Tirinnanzi
By Enrico Zoi
Andrea Tirinnanzi represents another of the many possible manifestations of the relationship between creativity and Fiorentina. In this case, it is not about a footballer, but certainly about an authentic viola heart, which he conceived … but let's proceed step by step.
Do you know what it means, in Florence, to pass by car from via della Fonderia, in the heart of the Pignone (the real one, the ancient one), and, when you are already worried about the traffic that probably awaits you at the crossing of the roundabout in Piazza Taddeo Gaddi and Ponte alla Vittoria, do you find yourself in front of the silhouette of Leonardo Pieraccioni who, still in the role of Levante of the 'Cyclone', looks you straight in the eye, winking with his sympathy? Pieraccioni, Levante, just him! But what are you doing at this time of the morning, all smiling, standing on a sidewalk?
The answer is in the hands and in the imagination, as we said, of Andrea Tirinnanzi, a Florentine, born in 1948, who, in his Facebook profile, defines himself as a "gallerist, framer, a bit of an artist, at Firenze Art Gallery", based naturally in piazza Gaddi. If the doors of the web open on Firenzeart.it (www.firenzeart.it), those of the Oltrarno announce themselves with its shop / gallery.
Andrea Tirinnanzi at work.
And it is a very nice response with a great media effect. Yes, because this brilliant gentleman, on an unspecified day a few years ago, has the enlightenment: to create digiscultures of famous people, Florentine and not, transforming their images into life-size giant posters glued on wooden supports. The effect is extraordinary: not only Pieraccioni, but also My Friends, and then Pope Francis, Franco Zeffirelli, the Beatles, Leonardo da Vinci, up to – and here we want you! – to Giancarlo Antognoni, Franck Ribery and Rocco Commisso.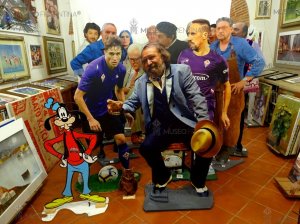 Some creations by Andrea Tirinnanzi.
Yes, Fiorentina! Tirinnanzi, as well as being involved in art and exhibitions around Tuscany and beyond, is a great fan of the Viola team.
"My beginnings as a supporter of Fiorentina – he says – can be traced back to when I became a member of the Viola Club Vieussieux, of which I was an assiduous activist in the past. It is there that a passion was born that – he smiles pleased – I passed on to my son and my grandchildren, which is no small feat!
His support, moreover, is never, if we can say so, a 'passive' support. Tirinnanzi is a character, a creative, it is not enough for him to sing or encourage, he has to intervene by putting his own.
Thus, as a lively fan of Giancarlo Antognoni, he follows the 1982 World Cup very closely, but not as a mere spectator: "I created a themed car for those championships, which Tg1 also talked about, something quite unusual, an operation designed and made in two days and two nights by myself, my employees and my son: he was really little and I saw myself in him. Obviously the car was dedicated to Antonio: it was the World Cup, but our support was for him, despite the injuries". Until, in 2011, Tirinnanzi created a digisculpture for the Unico 10, "a work – he confesses – which I still often and willingly exhibit".
Enrico Zoi, the creation dedicated to Giancarlo Antognoni and Marcello Lazzerini.
The idea of ​​the car for the World Cup has an important precedent: "I am from 1948, so for the first Scudetto, the one with the 1955/56 license plate, I was little, but I followed it. Indeed, the onset of my purple passion comes precisely from those years, when I helped my cousins ​​in the realization – in the middle of the road! – of the Balilla car for the first championship. It was the spark, the occasion, the start of gestation: my typhus was born and revealed itself around 1957-58. When I was ten I became a real fan, one of those always in the front row against Juve, otherwise I wouldn't be a Florentine!".
The creation dedicated to Frank Ribery
There are many ways to be a fan and you can combine great passion with sobriety. "I am a positive fan – explains Tirinnanzi -. I always hope to see another Scudetto again. Sometimes I get angry at the mistake of a goalkeeper, sometimes because they don't understand each other between players. But I'm not a fan of those fought in the wrong way, of those who offend. I am a true fan because I feel the team inside me, without ranting, as unfortunately I see many do. The story that struck me most and tormented me was naturally that of Davide Astori. I regularly follow the games on television and, if I can't watch them, there is the radio! In short, I always try to be updated. Anyway, in my house too the cat is Florentine! Penelope has her purple scarf too! My nephew has the purple shirt on and he can't take it off anymore! He is five years old and always plays football in that uniform. Just think that, several years ago, I worked in a body shop in Viale Europa, which all had Fiorentina customers: I repainted the car in Oriali, Alessandrelli, Galli, Massaro, who sent a dedication to my son on the occasion of one of his matches. We had become friends.
The bodyshop was purple too! In the family – he continues -, the one who pushed the most fierce supporters on the accelerator, which I did not share so much, for me and especially for my son, was my father-in-law Piero, known as Pierino. Once we went to see Inter, me, him and, in fact, my child, who was 7 or 8 years old at the time. I found myself cornering with the two of them screaming and screaming, snotty, nail stuff! I didn't know my father-in-law up to that point and my son was just like him! Although surprised and amused, I remained a bit on the sidelines: I was cheering, I had a hat, a scarf, everything, but I wasn't like them! "
The creations dedicated to Rocco Commisso and Narciso Parigi.
Tirinnanzi is a dreamer, a whimsical, one of those beautiful people who feel the need to communicate the various faces of their self through ideas, proposals, artistic and collective manifestations: a polychrome cry that guarantees love for purple colors and culture.
The 2006 exhibition takes shape and life in this beautiful wake. "Those were the years of Cesare Prandelli's Fiorentina and, in my Firenze Art gallery, I set up an exhibition dedicated to the champions of the first purple championship, on which there is also a book edited by Gabriella Gentilini, 'The Fiorentina of the first Scudetto. 1955-1956 purple memories between news and art '. All the players left from that first formation came: Magnini, Sarti, many many, and then Marcello Giannini, Prandelli (who loves art), the purple players in the squad that year. There was such a high turnout that, instead of lasting one month as expected, the exhibition lasted two. It was truly a success. I bring a beautiful memory of it".
Drawings dedicated to Fiorentina 1955-56.
Past, present and future intertwine in the narration that Tirinnanzi gives us of his purple passion, quiet cheering yes, but not without the typical surges of the Florentine doc vis polemica: "After that of Antognoni – says the 'quasi-artist' of piazza Gaddi – other digiscultures have been added, such as those by Franck Ribery and Rocco Commisso. The latter, created on the arrival of the new president, had an unexpected success, so much so that even the Corriere dello Sport dedicated a page to it. For the Della Valle, no digisculpture, I'm careful! I liked Cecchi Gori: in him I saw the man who put his heart into the team. Despite the vicissitudes he had, his soul was for Fiorentina. My favorite champion? My champion is Antognoni, certainly also Gabriel Batistuta. There have been several, but Antognoni remains the first, because he remained in Florence forever and without delay, while others, for the money, have changed sides. He also went abroad for a while, oh well, but proforma. He has always remained faithful to the purple flag, even though he is not Florentine".
The creations dedicated to Rocco Commisso and Giancarlo Antognoni.
Fiorentina and Florence. We have told ourselves this many times, also because it corresponds to the truth: in Italy, we are perhaps the reality in which the history of the football team is most directly linked to that of the city … "I think Fiorentina is very important for Florence – Tirinnanzi comments -. At all levels. Starting with mine, the artisanal and commercial one. If the team goes well, many ideas and initiatives are born, which bring work. This is also why it is important to have a team that sooner or later can give us a third championship. We have lived through so many bad times and we deserve it. I was tremendously struck by the failure of Cecchi Gori, an end that I did not expect, to which I reacted with energy, experiencing the rebirth from C2 and going to all the games in the villages like Montevarchi. We left in the morning and on. In addition, I also followed amateur football: my son played in the Ponte a Greve and I took everyone to see the game, even if they played on Mondays. However, I was not in the play-off with Perugia with whom we returned to Serie A, but there was my son! Failure was an event that I can't even explain, because I couldn't believe it was true, then unfortunately you get used to everything. I followed the trend of the rebirth through Giani and Domenici, we talked about it and I always hoped that someone would arrive. Well, in this case, sometimes it will be necessary to thank the Della Valle family because we without them … just as they were nothing without us! "
Rocco Commisso and Andrea Tirinnanzi,
We close our nice conversation with the best memories, those that make your eyes shine even after so many years … "When Roberto Baggio, already a Juventus player, picked up the purple scarf, or the 40,000 at the stadium to celebrate the Italian Cup: I was there and that is a good memory! Again: the portraits of all the Fiorentina players of the first Scudetto painted by Seba, painter of the Corriere dello Sport of the time …".
But your Fiorentina, the ideal formation, the dream that encompasses all your champions, what is it? "Sarti, Magnini, Cervato, Dunga, Vierchowod, Passarella, Julinho, De Sisti, Batistuta, Antognoni, Baggio".
Andrea Tirinnanzi is also creative in his engaging dreamlike dimension with open eyes. And we answer: don't wake us up!