"VIOLA CREATIVITY"
 Michele Coppini
by Enrico Zoi
This time we go in medias res, indeed in the heart (Viola) of a person, of course – dealing here with creativity – an artist: the Florentine actor and film director Michele Coppini.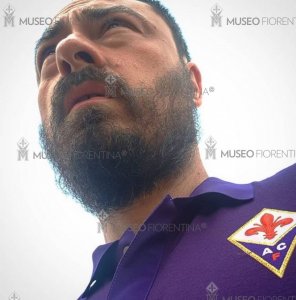 Michele COPPINI
Among his productions, many short films, some beautiful documentaries, a very nice comedy film, 'Benvenuti in amore', from 2008, with himself as an actor and with Alessandro Calonaci, Eleonora Cappelletti, Sergio Forconi, Gabriella Ceccherini, Gigi Sammarchi and Carmen Di Cintio, and a new feature film to be released in the fall, entitled 'Dio is in lunchbreak', which marks the return to the set of none other than Athina Cenci!
                                                                                          Michele Coppini with Athina Cenci
Michele Coppini is obviously a huge Fiorentina fan …
How do you reconcile the artistic profession with the purple passion, if you reconcile them?
"I reconcile them badly, because when Fiorentina play, nothing turns around. Lately it has been too easy, with Fiorentina playing only the league games, I was able to work a lot … We hope to enter Europe from next year so as to have to shoot one less day a week!".
How much Fiorentina is there in your works?
When I can I always try to put a reference to football in my work. A few years ago I shot, for Corriere dello Sport and Tuttosport, the web series 'Calcio all'italiana', a comic series on amateur football, where I play a purple fan.
"Calcio all'Italiana"
The great Francesco Flachi also participated amicably in one episode and I was able to shout in his face 'The boy plays well, the boy plays well !!!'
Michele Coppini and Francesco Flachi
For 'La Nazione', on the other hand, I edited the ironic video-column 'Selfie for Montella', when the good Vincenzo was our coach, under the Commisso era.
I went around Florence looking for fans to send a video message to the Neapolitan coach. In one episode I also told about a Fiorentina-Juventus from a club in Paris, together with the Viola Club Paris and some Juventus fans. It was September 2019 and the match ended 0-0. But it was a lot of fun to be able to see a game all mixed up, there was some teasing and some jokes, then in the end we all drank a beer together".
When did you become a fan?
"I became a fan on Sunday 14 January 1990. I remember exactly the date because I remember the exact moment I became a fan. That day, my older brother was tuning the Genoa-Fiorentina match (finished 1-1) on Radio Blu to the stereo in his room, with commentary from David Guetta. I asked him 'Simone what are you doing?' and he 'I'm playing the game, do you want to listen to it with me?'. Since that time, I have missed very few games. Maybe a dozen … I still remember our exultation at Oscar Dertycia's goal.
How nice, if I think that the first goal I witnessed live (even if via radio) was made by that great mysterious object that was the Argentine striker, one of the viola players who have remained in my heart the most, perhaps really. thanks to this episode. But I must say that I brought enough luck to Fiorentina … in my first year as a fan the team made it all the way to the Uefa Cup final (which we got stolen !!!) with Juventus.
Perhaps it is precisely because of that wrong at the last of the tournament that every Fiorentina match I experience as if it were a final. Even in Serie C2 I felt a bang, maybe even more. I remember a 1-0 home defeat against Montevarchi, I was out with my girlfriend (now my wife), I said 'Come on Carmen, let's go home, I can't go around Rome with ice cream in hand, when Fiorentina has just caught some from Montevarchi, come on, my desire is gone! '. At that time I was living in Rome to attend the 'Roberto Rossellini' film and television school. In those years, first Lazio and then Roma won the Scudetto and we failed. Despite four categories of difference, I have never been ashamed to say that I am a purple fan, on the contrary … the real fan is not seen in the victories, but in the defeats.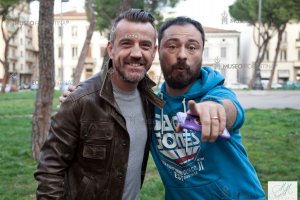 Francesco Flachi and Michele Coppini
To make you understand how much I am a fan, I just tell you that, years ago, when I was still living with my parents, we found a Dalmatian dog. Gorgeous! We immediately fell in love with it and adopted it. But there was a problem. A problem that Dalmatian dogs have from birth.
It was black and white! A tragedy. We had to find a name that exorcised those colors … and so I decided for everyone: 'Purple! You can only call Viola! ' and so we did … If you ask me about my favorite player there is only one, apart from Dertycia (now I have exaggerated I know …): Robertino! Robertino Baggio for me was something non-human, something magical, a divine being. There have been few players like that in the history of world football. For me he and Maradona were above everyone. I admit I have seen few videos about Pele and as far as Messi is concerned, he has never fascinated me much, certainly as a footballer he is indisputable, perhaps at those levels, but he does not have that magical aura that they had. Perhaps that magic was also part of a different football era, a football that no longer exists today. A football now very distant: today's football is colder, much colder than that distant 14th January 1990 … ".