BEST WISHES CLAUDIO…
by Fabio Incatasciato
75 years old, very well suited for our Claudio: the Secco, the number 8, the half-wing par excellence, the brain and the class: many things all together, but above all one of the magnificent champions who made the feat (the most unexpected ever) and one of the strongest midfielders ever in Europe between the late 1960s and mid-1970s.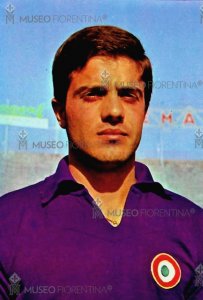 Claudio MERLO (Museo Fiorentina Archive)
With the exception of a short period spent in Milan, on the Inter side and in Lecce in Serie B, Claudio spent most of his 75 years in Florence: he arrived on the Arno from the Tevere Rome, where he was trained, very young, at 17, to become part of a brood of future great players and probably unrepeatable champions: with him played Ciccillo Esposito, Luciano Chiarugi, Mario Brugnera: and precisely the latter two – the whimsical and explosive boy of Ponsacco and the talented young striker who were starting to call little Di Stefano – they joined Merlo, at the end of winter 1966, joining the team, becoming owners and officially giving life, thanks to the great work of Beppe Chiappella, to the "Fiorentina ye ye". In that team there were already young people who have become very strong and with different experience: Mario Bertini and Picchio De Sisti (bought the summer before by Baglini from Rome) and very titled boys coming directly from the purple youth sector, Ugo Ferrante and Pino Brizi. Claudio was predestined: many knew him very strongly for his young age and with his head on his shoulders; on 12 December 1965, against the strongest Inter in history, at San Siro, he made his debut in Serie A, alongside Picchio De Sisti, helping to bring home an incredible draw for Fiorentina.
Claudio MERLO shirt, season 1971-72 (Museo Fiorentina)
That year he will play almost always (18 more times), scoring a brace at San Siro in the victory against Rivera's Milan, contributing to the splendid victory against Napoli of Altafini and Sivori at San Paolo for 4 to 0 and then winning the Mitropa Cup in June, but above all the third Italian Cup in the history of Fiorentina, right in his Rome (as it will happen nine years later), against Catanzaro; now in that team the goals of the eternal and immense Uccellino Hamrin are supported by Bertini's escapes and running, by Chiarugi's inspiration and magic, by Brugnera's plays and by the pair of half wings that will mark the history of Fiorentina as perhaps in no other case: both Romans, absolute class, Picchio with 10, Claudio with 8.
Claudio MERLO shirt, season 1971-72 (Museo Fiorentina)
If Picchio is the brain, he is the one who sews, who thinks, who puts together, who organizes, who holds together the other ten champions, Claudio is instead the wing-half who starts and finishes, who accelerates, who tears, who takes you to superiority numerical, which always finds the partner free to send him to goal. Gifted with great fundamentals, tactically intelligent, good at dribbling, he makes himself known and affirmed for his ability to raise his head after missing a couple of men and serve the decisive assist. For Hamrin and Brugnera first, for Amarildo and above all Maraschi later, becoming a modern midfielder, almost unstoppable, who thanks to the agreement with Picchio occupies large spaces on the pitch and always finds himself in the right position to go to close the offensive action, but also to give hand to the other teammates in possession of the ball and to let the team catch their breath.
He has already forged ahead, as did his other young teammates, when he went to win the Scudetto in May 1969 in Turin against Juve, by now central and fundamental in the game of Pesaola and in the usual agreement with Picchio; he continues to grow by playing a great Champions Cup (memorable matches with Dynamo Kiev eliminated in the second round) and stopping in the early seventies only for a muscular weakness that often leaves him in the pits. But in the Liedholm years he still shows new abilities to adapt to a football that is gradually becoming more and more athletic, building among other things new agreements with striker Clerici (to whom he provides a considerable number of assists) and above all with the newcomer, the young blond who plays while looking at the stars and his name is Giancarlo Antognoni. It is also thanks to Claudio Merlo, now in full maturity,that the young Umbrian wing-half, who is said to be very good, learns a lot about being on the pitch, about playing times, about being useful for the team.
Claudio MERLO shirt, season 1974-75 (Museo Fiorentina)
Then in the summer of 1973 a great "wrecker" arrives, someone who thinks of a new football, a modern organizer of a truly European football; Gigi Radice changes many things: he launches very young and race-hungry athletes – Roggi, Caso, Guerini, Desolati – he convinces the team that you can always win, he makes Antognoni grow, but above all, he understands that Claudio is at that moment in his career one who can to have a further turning point: it makes him "todo campista puro", the total brain of Fiorentina, a builder from below and a finisher at the same time, a man of running (which Claudio had never lacked) and of brain, breath and class. If, paradoxically, Gigi Radice is the coach who ends Picchio De Sisti's career in Florence with a thousand misunderstandings, he is also the one who invents a new phase in Claudio's career by making him play his best season, in terms of play and tactical skills. Because Claudio Merlo was also a very modern midfielder, suited to the new game of the seventies towards which other great players struggled to adapt.
Unfortunately, however, Radice's season did not last long and the downsizing of the following Fiorentines, very unfortunate due to the broken career of many future champions, led him to choose to end his career at Inter, in a team without great pretensions. But before leaving, in the previous year, he had time to raise again, in the stadium of his first city, Rome, again that Coppa Italia with which he had started the purple adventure: at the Olimpico he is the captain who leads a band of crazy and terrible boys to beat the Milan of the former Chiarugi and win what will remain the last real trophy won by Fiorentina for twenty years.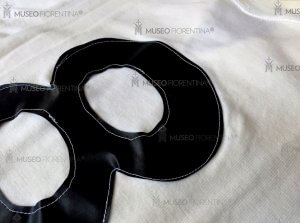 Claudio MERLO shirt, season 1974-75 (Museo Fiorentina)
Since then he has always been close to Fiorentina, choosing to live with his family in Florence and finding himself next to the Viola fans at all times, beautiful or dramatic.
One of us, one of the strongest, a true champion.