"VIOLA VICTORIES"
6 May, 2017
The scenario is the unusual one of the Artemio Franchi Stadium in Florence and the public, almost ten thousand spectators, came to celebrate their champions. The first half ended zero to zero, in the second half the goals of Patrizia Caccamo and Tatiana Bonetti sign the 2-0 win over Tavagnacco. A success that marks the conquest of the first Scudetto by Fiorentina Women's, with one day to spare.
The Viola club had strongly wanted this setting: "Fiorentina invites all purple fans to support the women's team and to participate in large numbers in the May 6 appointment at the Franchi which could be worth the Scudetto for the girls of Mister Fattori and Mister Cincotta. For the occasion, the Marathon sector will be open to the public, tickets will be available from Friday 28 April at 3 pm at the symbolic price of 1 euro at all official Fiorentina ticket offices ".
The triumphal march of the Viola players has staggering numbers: 21 victories and only one defeat (against Mozzanica) in the 22 league games, 88 goals scored and only 7 conceded.
All this in the second league, after having, in 2015, "absorbed" the women's Firenze Calcio using the possibility given (by the FIGC) to professional clubs to organize their own women's teams.
A choice that made Fiorentina the first Italian club to believe in the development of women's football and, consequently, to invest adequately in its structure.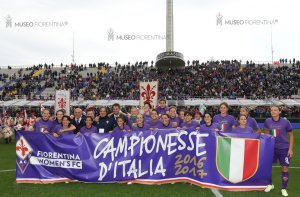 Fiorentina Women's, Champion of Italy 2016-17 (Museo Fiorentina Archive)
The Viola anthem resounds, and is the soundtrack of the celebrations with the long banner that parades, celebrating a new victory for sporting Florence and the certainty that the viola people not only have the men's team to support, but also these splendid athletes.
Fiorentina Women's, Champion of Italy 2016-17 (Photo GERMOGLI)